Do you need to move or service a pool table?
Professional and experienced services by Madison Pool Table Movers
Guaranteed by a national organization
We are the only organization in the industry that offers 7 days per week support for our customers with the most technologically advanced systems in use today, call our professionals to get a price to move your pool table or if you only have general questions. Your satisfaction is what has made us the largest and most professional company in the industry.
Looking for a pool table? Check our classifieds for local pool tables for sale.
Professional Pool Table Movers of Madison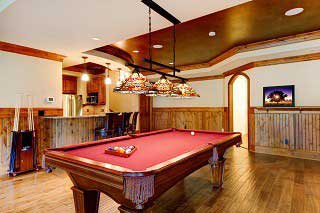 Our qualified pool table movers use only the appropriate tools when taking care of your table to ensure the highest level of quality. A machinist level is used to achieve exact leveling when taking care of a pool table setup, a beeswax mixed with resin compound for filling in holes and seams and composite wood shims that are moisture-resistant and don't compress as easily as traditional cedar shims.
We can recover with new or existing material is in good condition and you're happy with it, other services include moving to storage, a pool table setup only if the table has already been moved. We handle everything from start to finish. Guaranteed satisfaction and leveling on applicable pool tables.
We provide pool table services and repairs also in Middleton, Fitchburg, Waunakee, Verona, Sun Prairie, Stoughton, Fort Atkinson, Portage, Baraboo, Janesville, Monroe, Watertown, Whitewater, Beaver Dam, Beloit, Tonyawatha, Elmside, Maple Bluff, Monona, Mendota Beach, Darwin, Fitchburg, McFarland, Riley, Lodi, Dane and surrounding areas of Madison.
We offer a section to sell a pool table for free!
Experienced pool table movers providing qualified pool table services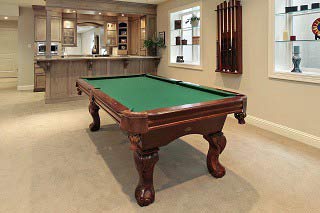 We professionally move pool tables in homes, businesses and even garages, we handle every aspect of your pool table move. Expert pool table installations, or if you need to refelt the table during the setup and even if there is a pool table repair that needs to be taken care of, such as the pockets need replacement or the rail cushions are dead. We have you covered!
Ask us about pool table refelting during installation, if you would like to have new felt on your table. This is the best time to have this service done on your table since the pool table will be in pieces. We will have to know in advance to be prepared with all the materials and equipment needed for the task. Our customers can choose from over 30 different colors of pool table felt.
We use the highest quality pool table cloth the industry has to offer at this time and the material itself is guaranteed against manufacturer defects for an entire year. Be sure to measure the playing surface area of the table to have the right cut of the pool table felt. Our skilled pool table installers work with standard woolen pool table cloth and tournament grade worsted materials as well.
Why hire experienced pool table installers?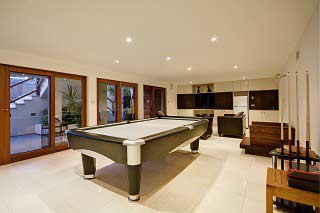 We have years of experience taking care of professional pool table moves. We properly disassemble your table, safely transport it in pieces to the end location, build it from the ground up, make sure it's perfectly level and refelt with new or existing felt.
Other services include in-home moves, proper breakdown, and safe transport to storage, professional pool table setup, pool table recovering of an already installed table and moves in two appointments for when you need your floor carpet replaced.
If you're having new flooring installed do not try to move your pool table in one piece! even if it's just a few inches as this will cause all types of leveling issues, doing so could damage the table or worse you could end up injured. Let us handle that 800 pound monster for you. Whichever scenario it may be, our skilled pool table installers can take care of it for you.
The service our pool table installers include professional tear down, transport and pool table setup with expert leveling. We come to your home, un-crate as necessary, cover rails and professionally level all 3 pieces of slates using precise leveling equipment.
Our pool table installers offer the only guarantee issued by a national organization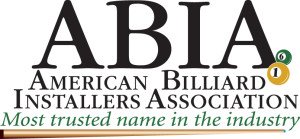 We provide a premium service and are the only company in the Madison area that backs up our work with a written guarantee for an entire year. This guarantee is issued by the only National Organization that regulates service standards in our industry. As Members of the ABIA, we are the only company in Madison to offer you an exclusive 1-year service guarantee IN WRITING and issued by the American Billiard Installers Association.

All of our pool table installers are well trained in our area of expertise. Whether pool table installations of new or used tables, pool table recovering at the time of installation, or just pool table refelting of one that is already set up, tear down and transport to storage, and in case you need a pool table repair taken care of, our crew of expert pool table movers can definitely help!
Make sure you let us know in advance if you want to recover your pool table in new cloth when the pool table is torn down is the best time to add new material. We have put together a chart with the proper pool table room sizes for your convenience.